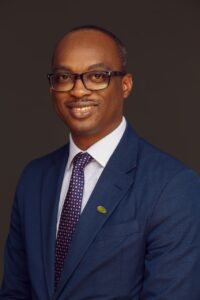 Mr. Ayo Bajomo (Director)
Mr. Ayo Bajomo is currently the Divisional Head, Treasury and Financial Institutions (Treasurer) at the Bank of Industry (BOI). He manages the Bank's Assets and Liabilities and ensures optimum liquidity at all times. He is actively involved in raising capital from international sources through syndications, bonds and other instruments. As Treasurer, he oversees the bank's Equity Investment portfolio and manages international and local relationships with Financial Institutions & Professional Associations, etc.
Before his present role, he was the Divisional Head and Deputy General Manager responsible for overseeing all Small and Medium Enterprises in entire 17 Southern States of Nigeria. He previously served as the Technical Assistant to the Managing Director of BOI.
He has worked in the Commercial bank space with several institutions such as United Bank of Africa (UBA) and former Standard Trust Bank (STB). in UBA, he was one of about five appointed Senior Credit Officers who were assigned signing limits in entire bank and was the Head of Corporate Lending in the Risk Management division handling all Credit request for all wholesale (Corporate).
Ayo also set up the entire framework, job descriptions, recruitment of the entire team for Consumer Lending at First City Monument Bank (FCMB).
Along the way, he also worked with Equitorial Trust Bank as Group Head Retail lending at briefly as the Head of Enterprise Risk Management.
He also worked with FSB International Bank Plc (Now Fidelity Bank Plc) as Head, Construction and Telecoms Unit and earlier as Head of Corporate Planning in the Strategy Division of the bank.
Mr Bajomo has also worked with other Non bank Financial institutions such as being pioneer Managing Director/ CEO of a Finance House – One Financial Services Ltd (owned by Investment One Financial Services –  Former GTB Asset Management Ltd). Ayo was also with a CBN licensed Mobile payment company Eartholeum Networks Limited as an Executive Director and Chief Operating Officer.
In consulting he worked as a senior Management Consultant with Accenture (Formerly Andersen Consulting) largely working in Strategy, Change Management, etc for FIs and Manufacturing clients.
He is a member of the Institute of Directors (mIOD), a Certified Microfinance Banker (MCIB), Honorary Senior Member of The Chartered Institute of Bankers (HCIB), Member of Chartered Institute for Securities and Investments (MCSI) UK, Chartered Member Institute of Management (MNIM), associate of Chartered Institute of Stockbrokers of Nigeria (ACS).
Mr Ayo Bajomo is a Fellow of the National Institute of Credit Administration (FICA), Portfolio Management Institute of Nigeria (FPMIN), Fellow Pension Institute of Nigeria.
Mr. Ayo Bajomo is an alumnus of University of Lagos and Lagos State University where he obtained M.Sc  and B. Sc in Mechanical Engineering respectively. At LASU, he was the best graduating student in the Faculty of Engineering in 1991.
Mr. Ayo Bajomo is extremely passionate about Development Finance, Infrastructure Finance and financing SMEs, etc