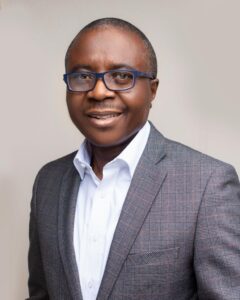 Mr. Usen Effiong (Chairman)

Mr. Usen EFFIONG is currently the Executive Director, Corporate Services at the Bank of Industry (BOI). He oversees Management Services and the BOI Subsidiaries. Mr. Effiong joined the BOI from the Central Bank of Nigeria (CBN). He has over Thirty – Two (32) years working experience with the Apex Bank out of which 20 years were spent in various Human Resources functions such as Performance Management, Workforce Planning, Talent Management, Change Management, Continuous Improvement and HR Transformation.
A highly analytical and cross-functional Executive with proficient skills and competence in connecting strategic objectives to operational tactics while ensuring implementation and driving change initiatives. He is very passionate about value creation in the business and also focused on enabling dynamic and customer-focused workforce and environment.
Mr. Effiong is an alumnus of University of Ibadan and University of Calabar were he obtained M.Sc Agric. Economics and B.Sc (Hons) Agric. Economics qualifications respectively. He is a Full Member of Chartered Institute of Personnel Management (CIPM) and Nigerian Institute of Management (NIM). He is also a Certified Member of Certified Talent Acquisition Professional (CTAP) and Strategic Workforce Planner, Human Capital Institute.